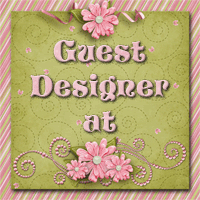 After coming in the top 5 over at Fashionista the other week with my anniversary card for my Dad and Step mum Brenda, they very kindly asked me to be a guest designer for one of their challenges - Summer Fun
Thank you very much for asking me, I feel very honoured!
This is the card I made especially for the challenge
I have used a XXL Go Kreate Frilly Square #2 die to create the base card and then I cut the designer patterned paper (using the next size down die) and stuck to the card before cutting and scoring to create the stepper card.
The image is from Lili of the Valley, the sentiment circle is also from Lili of the valley and is a clear stamp which I inked in silver, it says dreaming of summer days. I cut the circle and scalloped circle with Spellbinders dies and the square behind the image with a Spellbinders scalloped square die and added silver circle peel offs in the centre of each scallop.
I have used a Cheery Lynn flourish die and made the flowers using a Die-namics flower die set and also used my Cheery Lynn butterfly dies.
And now for the important bit
Hello to all Fashionista Followers!
Its the beginning of week 3 Simply Summer Challenge
and I want to remind you that there are just
5 days left to get entered in this challenge.
Please hop over
HERE
to join in with the challenge.
Their sponsor is
A day for daisies
A Day For Daisies provides themed categories of over 1000 digital illustrations, including fairy tales and magical mermaids, cutie kids, vintage illustrations, sentiments and lovely designs for all occasions!
The prize is a $12.00 gift certificate
equal to 3 digis from her store.
Stay Tuned...
They have some big news to share
with you very soon...
Next week they announce the DT's top 5
selections and the voting begins!
Remember, if you are not selected
in our top 5,
you can still win a prize!
Just go and vote for your
pick from their top 5,
leave a comment and you have a
chance to win 2 digis from
Saturated Canary
I am entering this card into the following challenges
Thanks for looking x